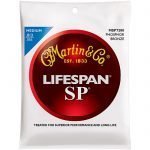 MARTIN SP LIFESPAN 7200 MEDIUM MSP7200
Rp250,000
Martin SP Lifespan acoustic guitar strings are treated with Cleartone proprietary technology to bring you the longest possible string life without sacrificing tone or natural feel.
Description
Martin SP Lifespan strings are designed to repel the oils and dirt that can deaden strings. All six strings are treated to preserve the natural Martin SP sound and feel that players prefer.
Phosphor Bronze strings are bright, but slightly warmer sound than 80/20 bronze when first put on the guitar. They offer consistent tone over time. Phosphor bronze has a copper/tin alloy, making them sound brighter than regular bronze strings.
MSP7200 strings are recommended for rhythm rock, jazz, blues, and folk styles.
Martin SP Lifespan acoustic guitar strings are used by Martin on the majority of its production guitars. Martin SP Lifespan with Cleartone proprietary technology provides a rich full tone with the added benefit of longer life. The Martin SP Lifespan acoustic guitar strings start with ultra-pure steel SP core wire, which delivers a perfect combination of tensile strength and response. Bronze electroplating is added to protect and enhance the core wire, which is complemented by the wraps that bring the full, rich tone players demand. Finally, Martin' custom wrapping technique ensures tight tolerances to gauge and tension. Martin SP sets are sent to Everly Music for treatment with Cleartone proprietary technology. This treatment provides the thinnest protection in the industry and does not flake or peel. The treatment protects both the wrap and core wire by repelling dirt and grime that can deaden a string. Wrap windings remain open and uncovered to permit natural vibration patterns. The Cleartone proprietary technology preserves and protects the natural rich full tone of the Martin SP strings.
FEATURES
SP Lifespan acoustic guitar strings
Medium
Treated with Cleartone proprietary technology
SPECIFICATIONS
MSP7200 SP Lifespan Phosphor Bronze Medium Acoustic Guitar Strings
Item #: MSP7200
Material: phospher bronze
Tension: 181.1
Gauge: 13 | 17 | 26 | 35 | 45 | 56