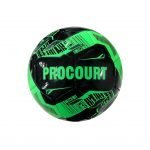 PROCOURT PREMIUM FUTSAL BALL (SIZE 4) BLACK/GREEN
Rp179,500
If you never had the chance to play Futsal, it's like playing low bounce soccer in your hallway.
Try it one time and you will see why those international Futsal players are so darn good. Adult size.
Description
·  SHOW OFF YOUR SKILLS WITH THIS TOP QUALITY FUTSAL BALL – Size 4 premium quality futsal soccer ball.
·  PLAY FUTSAL WHEREVER YOU WANT TO – This ball is suitable for use on both indoor hardcourts and outdoor grass