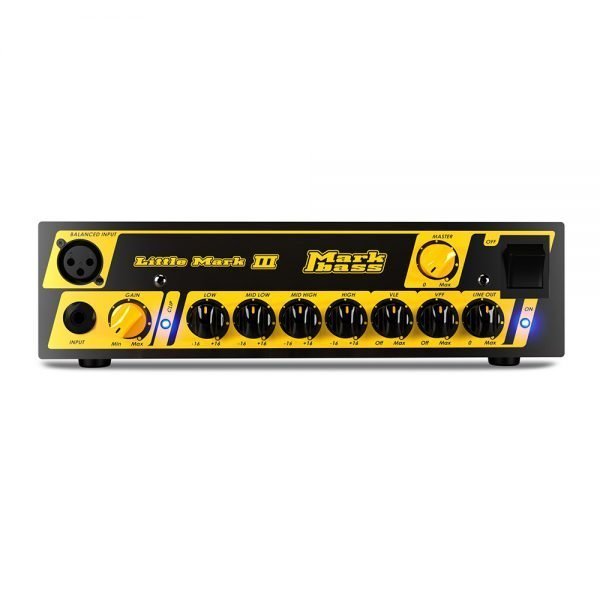 MARKBASS LITTLE MARK III 500W-BASS HEAD
The Little Mark III's solid-state preamp has a warm and natural sound, and faithfully reproduces the true tone of your instrument.
Description
The 500-watt Markbass power amp (Markbass Proprietary Technology) supplies impeccable bass frequency reproduction. The new DI output features a pre-post EQ switch and output level control, so you can optimize the signal you send to the mixer or recording unit.
INPUT: impedance 500 Kohm, max. voltage 15 Vpp

BALANCED INPUT (XLR): impedance 100 Kohm, max. voltage 25 Vpp

GAIN: -60 dB to +23 dB range

MASTER VOLUME

LINE OUT LEVEL

GROUND LIFT (switch on rear panel)

PRE/POST EQ (switch on rear panel)

EFFECT RETURN: impedance 33 Kohm, max. voltage 10 Vpp

LOW: center frequency: 40 Hz; level: ±16 dB

LOW MID: center frequency: 360 Hz, level: ±16 dB

HIGH MID: center frequency: 800 Hz, level: ±16 dB

HIGH: center frequency: 10 kHz, level: ±16 dB

VPF (Variable Pre-shape Filter): center frequency 380 Hz

VLE (Vintage Loudspeaker Emulator): frequency range 250 Hz-20 kHz

LINE OUT: balanced XLR, max. voltage 20 Vpp

EFFECT SEND: unbalanced, max. voltage 20 Vpp (pre-EQ)

TUNER OUT: unbalanced, max. voltage 2 Vpp

SPEAKER OUT: speakon/1/4″ combo, 1/4″

WEIGHT: 5.07 lbs / 2.3 Kg

WIDTH: 10.87 in. / 27.6 cm

DEPTH: 9.84 in. / 25 cm

HEIGHT: 3.27 in. / 8.3 cm

OUTPUT POWER: 500W RMS @ 4 ohms / 300W RMS @ 8 ohms

POWER REQUIREMENT:100/120V; 230V; 240V – 50/60Hz