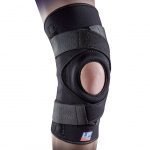 LP SUPPORT PATELLA STABILIZIER LP-MR773
Description
LP-MR733 PATELLA STABILIZER
LP Patella Stabilizer is suitable for all sports and athletic activities and everyday use. Unique design provides firm support for the maintenance of joint structures with gentle compression over the knee cap, affording the right kind of protection for injured, weak or unstable knee conditions. This provides effective support to damaged ligaments or muscles. LP knee support is designed to conform naturally to the contours of the knee and will not slip or ride up.
Benefits :
Spiral stays on both sides.
Circular pads surrounds patella.
Medial and lateral compression straps.
Pressure release around knee cap.
Fiber contents :
Body (outer/inner) : 100% nylon
Strap (outer) : 100% nylon
Strap (inner) : 98% cotton, 2% elastane
Others ; neoprene, EVA, nylon, steel
Sizing : measure the circumference of the knee at the patella with knee fully extended
S : 13-14" ( 33.3-37.5 cm )
M : 14-16" ( 37.5-40.6 cm )
L : 16-17" ( 40.6-45.1 cm )
XL : 17-19" ( 45.1-50 cm )