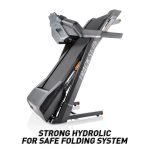 KETTLER TREADMILL TRACK S6
Offer Ends In:
56
Days
16
Hours
54
Minutes
30
Seconds
TREADMILL TRACK SERIES
Kettler Track S6 equipped with a DC Motor 3.0 HP that allows you to reach a maximum speed of 20 km/h, starting from a minimum of 1 km/h, with increments in steps of 0.1 km/h. Incline electronically adjusted by up to 12% via the buttons on the console step by 1% at a time. The running surface is 50 x 140 cm, cushioned by the patented Adidas Energy Boost system. Housing and display: High quality, perspiration-resistant plastic housing with plexiglass surface, 190x110mm LC Display.
Description
Product Highlights:
• Equipped with the KETTLER "Energy Deck": running surface mounted on Energy El
for a more agile running style thanks to Energy Rebound
• Interconnectivity possible with Sport APPs (such as Kettmaps), Sport Timepiec
Rate Monitors via BLUETOOTH
• High Quality Training Computer with user-friendly menu navigation in your language.
190 x 110 mm LC display
• Customized View: configurable Training Screen for personalized data selection
• Guided Running: Includes extensive selection of training programmes, described in ac panying training planner
Performance Data:
• High-performance DC motor with 3 hp continuous output
• Speed: 1-20 km/h (in 0.1 km/h steps)
• Incline: 0-12 % automatically adjustable (in 1.0 % steps)
• Running surface size: 140 x 50 cm
Additional Equipment:
• Speaker, Ventilator, Tablet Holder, Bracket for Sports Timepiece
• Additional keys on handrails for control of speed and incline
• Two placement areas of soft plastic material for drinking bottles and utensils
• Foldable running surface with Soft-Drop mechanism
• Transport castors, height compensation, safety-stop key with safety clip
Dimensions when set up: L / W / H (in cm): 189.5 / 87 / 143.5, folded: 126 / 87 / 153
Maximum weight capacity: 140
STATE-OF-THE-ART INTERCONNECTIVITY:
KETTLER TRACK treadmills communicate with APPs and sports timepieces
Additional treadmill equipment features.
.
The future is now.
The variety and types of sports APPs and interconnective
fitness equipment are growing and changing rapidly.
Whether it's a sports timepiece or an APP: new products and updates
for software and operating systems are now everyday occurrences.
KETTLER TRACK treadmills are ready for these digital developments.And the use of standardized transmission protocols, these treadmills
will remain compatible with future software offerings.
Offers these advantages:
1. A growing number of sports APPs can be used with KETTLER products
More and more sports Apps are adopting the same transmission standard as KETTLER. This enable the use of a growing number
APPs on the market. For example, how about a running session in the Zwift APP? No problem!
The KETTLER TRACK treadmill will transfer the running speed to the APP.
2. Communicate with Sports Timepieces and Heart Rate Sensors
With chest belts, timepieces etc., a harmonization of the transmission standard is also taking place. Many chest
straps, sports timepieces and optical heart rate monitors are already compatible with KETTLER TRACK treadmills.
3. Alle Laufbänder sind mit KETTMaps kompatibel
KETTMaps is the training software from KETTLER. More than 120,000 km on visually realistic video course material are
guaranteed to bring diversity to your training routine. From the short run all the way to the Alpine Crossing: there is a course for
every performance level and every requirement. At every hour of the day, open training sessions begin in which one can compete
and compare with like-minded persons. For example: how about a mountain stage after getting off work? No problem: Kettmaps
has offerings for runners, cyclists und rowers.