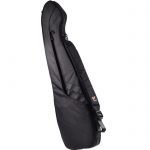 GRUV GEAR SLIVER GIG BAG ELECTRIC GUITAR (STEALTH.BK)
Meet the new standard in slim and lightweight gig bags. Continuing with the side-carry convenience of the GigBlade, the Sliver introduces a patent-pending "yin-yang" invisible neck brace that secures your instrument automatically when closing the bag. Smart, quick, and über cool. Stay nimble and gig-ready across town and around the world with the new GigBlade Sliver
Description
Meet the new standard in slim and lightweight gig bags. Continuing with the side-carry convenience of the GigBlade, the Sliver introduces a patent-pending "yin-yang" invisible neck brace that secures your instrument automatically when closing the bag. Smart, quick, and über cool. Stay nimble and gig-ready across town and around the world with the new GigBlade Sliver.
Key benefits:
Half the thickness of the original GigBlade.
"Yin-yang" invisible neck brace keeps the guitar neck from moving.
Unique side-carry approach is quick, comfy and convenient.
Offers the most carry options including sling, cross-sling, traditional handle and backpack (with optional 2nd strap).
Low center of gravity makes your gear feel like half the weight.
Slim pockets for tuners, in-ear monitors, picks, cables and more.
StrapFlat™ long pocket saves space and helps extend the life of your guitar strap.
40mm split adjustable bottom padding.
Rugged water-repellent 1680D nylon, yet lightweight.